'From Manchester to New York' the solo show by the artist Michael Ashcroft is available to be seen in our gallery Contemporary Six from the 4th of September to the 18th of September. This exhibition features works done by the plein-air painter on his travels from his home in Lancashire to America. Ashcroft has always pursued a career in the arts. Born in Croston in 1969 he began his career in engineering, only making art in his spare time. However, due to an operation to remove a brain tumour in 1998 Ashcroft decided to hone in on his skill and dedicate his life to art.
This show is an accumulation of Ashcroft's experience. It imbues the viewer with a sense of tension in the duality of place and space that is explored throughout this series of work. For those of us local to the streets of Manchester and whom are intimately acquainted with Ashcroft's depictions of it's back alleys and side streets we can see Ashcroft's adaptability and ability to create a narrative between two distinctly different cities.
'Manchester Victoria', oil on canvas, 8 x 10"
In works such as 'Manchester Victoria' Ashcroft's familiarity with the scene is apparent. The soft strokes of raw sienna push back the buildings so that they sit noiselessly in their environment. The central structure of the station is complimented by the slight tonal shift of the warm grey sky and the mering of a wet violet road and it's arched doorways. Similarly, 'Whitworth Street, Manchester' puts the viewer into a state of ease. The towering sandy buildings and the bright flashes of city buses are so synonymous with Britain that we feel at home.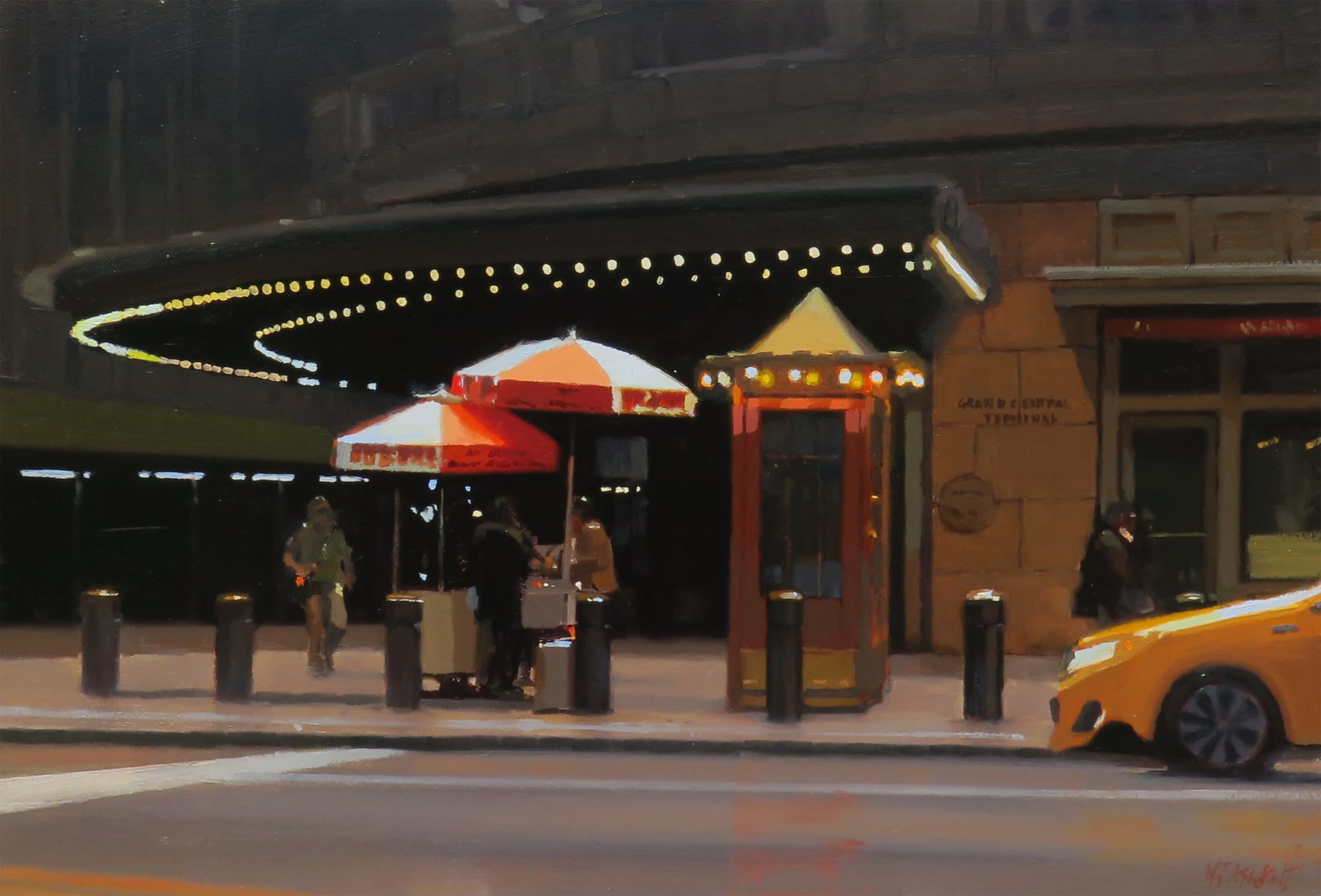 'Nut Seller, Grand Central NYC', oil on canvas, 11.5 x 16"
Contrastingly, '7th Avenue, New York' features strong, defiant brushstrokes. The restrained tones of Manchester are replaced by the hot red of neon lights of New York. The cramped bustle of figures seem to be mirrored by the flashing illuminations. There is a feeling of newness to this piece- a feverish raw energy that bursts through the canvas. It is this balance between the mundane and the magnetic that Ashcroft does so brilliantly. This energy is carried through to the piece 'Nut Seller, Grand Central, NYC', with its huge arching buildings and bright yellow of its taxi cabs. You could almost be fooled into thinking this is a Manchester scene, however there is something inherently alien about the red and white umbrellas of the nut vendor- something quintessentially American.
A brilliant example of Ashcroft's ability to create a relationship between the disparity in the two cultures is 'An English man in New York'. Two figures stand separate on a subway platform. The figure to the left stands slouched, dressed in black, earphones in: world shut out like a true New Yorker. In contradiction, the figure on the right is so very British. He stand posed against the backdrop- his combination of what we assume to be linen trousers and a white shirt stands out against the cold dark underground location. Although they co-exist in the same space the tourist is obvious.
Overall, this exhibit truly shows the expertise of Ashcroft. His ability to manipulate paint while working on location creates an atmosphere of truth. He shows us what he sees, and how he sees it.