Bath based artist Peter Brown, or 'Pete the Street' is a plein air painter who spends his time wrestling with the elements to paint city streets and intimate interior scenes. En plein air refers to the act of painting outdoors, an action that we may take for granted with the 21st century technology we are privy to nowadays but it is at the heart of British art history.
With a degree from Manchester Polytechnic, Brown then went on to study a PGCE in London before a brief hiatus ofabandoning painting. After returning to Bath he was inspired by the city streets and began to create charcoal drawings before restoring oils as his medium of choice.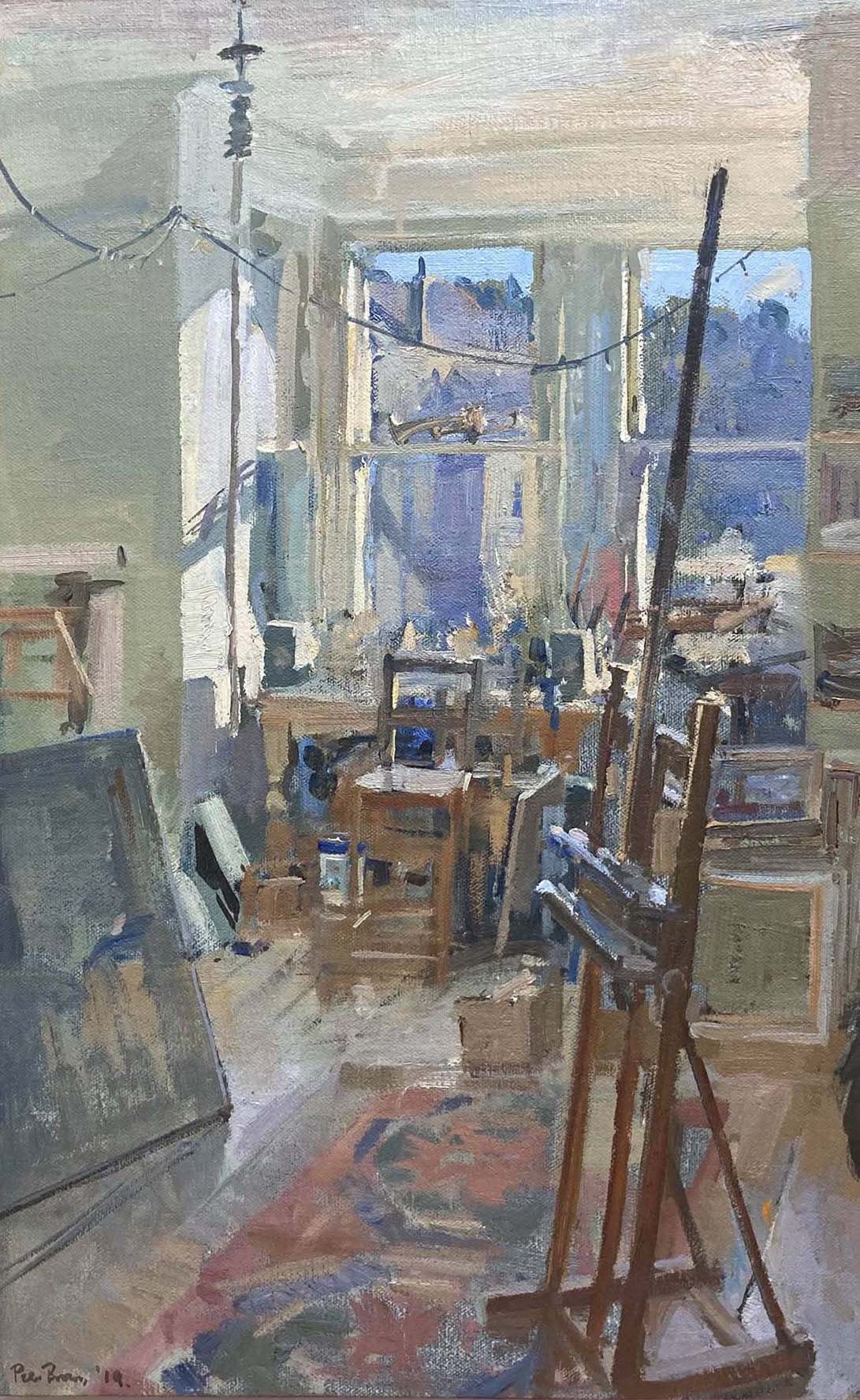 Working wet into wet Brown's marks blend and twist the oil paint into submission. Soft broken brushstrokes are framed by linear edges of buildings, traffic lights and window frames. Brown's site-specific colour palettes often feature muted stoney neutrals and feathery sky blues that are interrupted by dashes of bright inorganic colours.
Another important part of artist's practice is the framing of the subject matter. Brown experiments with different shaped compositions. Wide short canvases show a sliver of the landscape and long narrow ones a glimpse of an internal world. Scale is another factor in Brown's work. He switches from smaller snap shots to larger paintings that show full scenes and narratives, this exploration of size really shows the artists knowledge of his subject. It is these important details that make Brown a leading plein air artist.
Brown travels across the UK exploring its cities and countryside for places to paint. As of late his painting has taken him to new locations around the globe such as India, Havana and the USA. This change in location has given Brown's work a real sense of breadth and depth of his subject matter, handling his paint and colour differently to correspond to each individual landscape. This new collection of works acts as a map of experience. You travel with the artist through each painting. From a studio in the UK, to a coastline in Istanbul, to the busy sun-soaked streets of Florence.
Known for his landscapes and city works Brown also experiments with indoor scenes. These paintings offer a different experience for the spectator. They open up a dialogue about comfort, leaving the viewers guard down. The interiors seem to be more intimate than the bustle of the city; they draw you into a private moment in time. A cluttered studio becomes a monument to the artist inner life, an unmade bed becomes a metaphor for vulnerability. Leaving the safety of the streets behind, Brown invites the viewer to look inwards.
Afterall, that is what Brown's work does, it forces you to look at the everyday with appreciation for what is often overlooked.